It's the Crazy Cooking Challenge time again!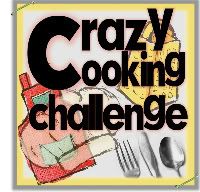 This month the challenge is Fried Chicken. When I mentioned this to my husband he retorted "We don't eat fried chicken!" To which I replied "I know! It's going to be oven fried!" My family is from the south, so I grew up on fried chicken even though I lived in the north. While I love chicken, I never quite developed a taste for grease soaked fried chicken.
Another new turn of events in this monthly cooking challenge is that now you can find the recipe you choose to use anywhere! I was very happy to hear that. We used to have to find a recipe from a blogger only. We couldn't use recipes that came from sites like Taste of Home, Food Network, etc. I'm not going to lie, I've
had a few months where I've struggled to find a recipe to use. If you're ever interested in joining us we'd love to have you! Just check out the details
here
, fill out the form and submit it to Tina.



I scoured the internet and came up with a recipe that I thought sounded delicious. I couldn't wait to try it and the recipe didn't disappoint me at all. The chicken was very tender and juicy. The Panko-Parmesan crust was very flavorful and we loved it!



Panko-Parmesan Crusted Oven Fried Chicken
(Recipe from

Hub Pages

)
1 cup Panko or traditional bread crumbs
1/2 cup freshly grated Parmesan cheese
1 tsp garlic powder
1/2 tsp cayenne pepper
1 tsp salt
2 eggs, beaten
4 skinless, boneless chicken breasts
cooking oil spray
Preheat oven to 375°. Lightly coat a baking dish or sheet with cooking spray. Combine the first 5 ingredients in a shallow bowl. Dip each chicken breast in the beaten eggs and then coat both sides in the bread crumb mixture. Arrange the chicken breasts on the baking sheet. Bake 35 to 40 minutes or until done and juices run clear.
Be sure to check out all the different recipe versions below. There are several of us from the challenge that either Pin, Tweet or Stumble all the posts. I'm one of the Pinners. If you'd like to follow this board you can check it out
here
. Just know that all of the pins won't be on the board for at least a few days. Thanks for stopping by!