It's time for the Crazy Cooking Challenge again! Time has just flown by since last month's challenge. This month our mission is to make cheesecakes. The rules have changed for the challenge and now we can find our recipe anywhere. Before we could only use one from another blogger. We couldn't use recipes from sites like Kraft, Food Network, etc. Now we can even use our own recipes.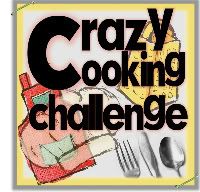 The cheesecake I chose to make is a Pumpkin Spice No-Bake one that I found over at Gina's Skinny Recipes. The site is
SkinnyTaste.com
. You can also check out her boards on
Pinterest
.
I wanted to get out my springform pans and make a cheesecake using them. All the recipes I came across that used them were so fattening! Not that I'm not one who doesn't love anything sinfully rich and fattening, but I knew I really didn't need it. Nothing is too rich for me.....ever! I swear I can sit down and eat a whole cake or pie or anything and it doesn't even faze me. That's one of the reasons why I don't keep stuff like that around. My husband doesn't eat things like that and if it's around, I'll eat it for breakfast without any hesitation. Besides I just had a birthday and I bought myself a carrot cake....and I ate a lot of it!
In my search for a recipe, I looked for one that was a little lighter so that it would be nicer on the waistline. I really liked the creamy smooth taste of this one. It's delicious! I'll definitely be making it again.
Add all ingredients except Cool Whip into a large bowl and mix using an electric mixer.
Mix in the Cool Whip and whip until smooth.
Spoon mixture into pie crust.
Chill for a few hours until firm.
After it's set, try to get the first piece out without ruining it :)
Enjoy!
Pumpkin Spice No-Bake Cheesecake
Serves 8 - Calories 239
7 oz 1/3 less fat Philadelphia Cream Cheese, softened
1/2 cup pureed pumpkin (canned is fine)
1 tsp vanilla
1 tsp cinnamon
1 tsp pumpkin pie spice
1/4 cup brown sugar, unpacked
8 oz Cool Whip Free, thawed
9 - inch reduced fat Graham Cracker Crust
In a large bowl using an electric mixer, whip cream cheese, pumpkin, vanilla, cinnamon, pumpkin pie spice and brown sugar for a few minutes until fluffy. Add Cool Whip and whip until smooth. Spoon mixture in pie crust and chill for a few hours, until firm.
Be sure to stop by and check out all the cheesecakes below. You can just click on the link and it will take you to the individual blog. Once all the recipes have posted I will be pinning them to a Pinterest
board
.
This post is also linked to these parties:
Mix It Up Monday
,
Mouthwatering Monday
,
Mangia Mondays
,
Melt in Your Mouth Monday
,
A Marvelous Mess
,
Inspire Me Monday

,

Tasty Tuesday

,

Tasty Tuesdays

,

Tuesday Confessional
Thanks for stopping by! Have a great day!