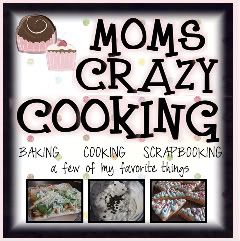 The 7th Crazy Cooking Challenge is going on today over at
Mom's Crazy Cooking
. This month's choice was Spaghetti with Red Sauce. I didn't participate this month because my husband isn't fond of spaghetti. Truth be told, I'm not either.
This challenge happens every month on the 7th. If you're interested in joining the fun, click
here
to get all the details and to sign up. To date there are 82 bloggers signed up. You don't have to participate every month.
You're probably wondering why I'm even blogging about it since I didn't play along this month. Well, I just wanted to let you know that I am the "Official Pinner" for the challenge. I pin everyone's recipe every single month on a board I set up on
Pinterest
. The photo below shows the
board
for this month.
If you're not familiar with Pinterest, this is how it works.You set up boards in different categories of your choice and you "pin" items to them. I actually like it better than adding a site to my bookmarks. It seems it takes me forever to find stuff I've bookmarked. On Pinterest I find them right away because I know what board to look at.
If you'd like an invite to Pinterest leave your email in the comment section and I'll send you one. If you request an invite from the site it takes forever! Receiving an invite from someone else is much faster.
Thanks for stopping by!