I was so excited to receive an invitation to participate a Linky Party called Crazy Cooking Challenge! The brainchild of this is Tina from
Moms Crazy Cooking
.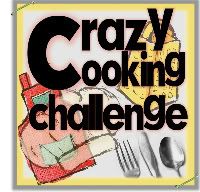 Here's how it works: Each month there's a theme and all participants search blog world to find a recipe from another blogger to make. It's a nice way to honor another blogger by making a recipe from their blog. We all post on the same day at the same time and then host a blog hop on our blogs. This month's theme is the Ultimate Macaroni & Cheese recipe.
I told my husband I was going to join this party and mentioned what we'd be eating. I've never been fond of macaroni & cheese, but didn't know until the other day that he wasn't either. Boy were we both wrong! We loved THIS recipe!
This
mac and cheese
recipe is from Melanie and her blog is
Adorkable Recipes
. What I like about it is the use of a white cheese since I don't care for cheddar. I followed the recipe exactly as it was on her blog. You will note that she mentions that she would decrease the amount of pasta the next time she makes it. We loved it just the way the recipes states. I don't care for the creamier texture. I loved the hint of garlic this recipe has.
Macaroni and Muenster Cheese
recipe by
adorkablerecipes.blogspot.com
Serves 6
Ingredients
16 oz. short cut pasta (medium shells, cavatappi, elbow macaroni, etc)*
3 Tbsp unsalted butter
1 clove garlic, minced
1 cup evaporated milk (2/3 of a 12 oz can)
8 oz (2 cups) Muenster cheese, shredded
salt
pepper
1/2 tsp dry mustard
2 Tbsp unsalted butter, for topping
1/4 cup cracker crumbs, for topping
*next time, I will try decreasing the pasta amount to 8oz, to allow for a creamier mac and cheese.
Directions
Preheat oven to 400 degrees.
Boil water and cook pasta just shy of al dente. Meanwhile melt butter in a medium saucepan over medium heat. Add in garlic and cook 1 to 2 minutes. Stir in evaporated milk. Add cheese and stir constantly until smoothly combined. Stir in salt, pepper and dry mustard.
Pour sauce over cooked pasta and stir to combine. Place in a greased 8x8 cooking dish. Melt remaining 2 Tbsp butter and toss with cracker crumbs. Sprinkle crumb mixture over the top of the casserole. Bake 20-25 minutes until topping is lightly golden.
Thanks for stopping by! Be sure to check out all the great recipes on all of these blogs. There are over 60 of us participating! Don't forget to vote for your favorite!