It's that time again! This month's Crazy Cooking Challenge is Blueberry Muffins.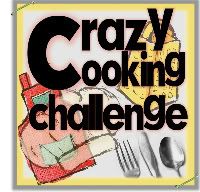 I was excited for this challenge because I love baking muffins. The minute I knew what our challenge was I scouring the internet looking for a blog with a delicious recipe.
I found this recipe
Alexandra's Kitchen

.
Let me tell you....these muffins were bursting with blueberry goodness!
I have to confess when I read through the recipe on her site, I didn't know what a meyer lemon was. I just figured I'd use a regular lemon. When I went to the store, lo and behold.....there they were! I've never made muffins with lemon before and now I'm hooked. Each bite had a wonderful lemony taste. The recipe also calls for cake flour. I just used all-purpose.


I noticed that her muffins turned out with a beautiful brown. I baked mine exactly like she stated in her recipe, but mine don't look anything like hers. They were still amazingly delicious! I don't know if it's just my oven or what the problem is. I do know that next time I make these I will bake them longer to get that gorgeous crusty look. I used my handy cake tester and the centers came out perfectly clean. I was afraid if I left them in much longer that they'd burn. I had a slight problem with the muffins sticking to my pan too. I generously sprayed the pan with non-stick cooking spray. I just had to work a little harder to get them out of the pan. I'd do it all over again in a heartbeat because they were so good.
If you like blueberry muffins, definitely give this recipe a try! You won't be disappointed.
Lemon-Blueberry Muffins
½ cup unsalted butter, room temperature
2 tsp. lemon zest (I used 2 Meyer lemons)
1 cup + 1 T. sugar
1 egg, room temperature
1 tsp. vanilla
2 cups cake flour (Note: I used all-purpose flour)
2 tsp. baking powder
1½ tsp. kosher salt (I used salt that is 50% less sodium)
2 cups fresh blueberries (frozen probably work just as well)
½ cup milk
1. Preheat the oven to 375ºF. Cream butter with lemon zest and 1 cup of the sugar until light and fluffy.
2. Add the egg and vanilla and beat until combined. Meanwhile, toss the blueberries with ¼ cup of flour and sift the remaining flour, baking powder and salt.
3. Add the flour mixture to the batter a little at a time, alternating with the milk. Fold in the blueberries.
4. Grease a jumbo muffin tin with butter or coat with non-stick spray. Distribute batter evenly among muffin holes. Sprinkle batter with remaining tablespoon of sugar. Bake for 30 minutes. Check with a toothpick for doneness. If necessary, return pan to oven for a couple of more minutes. Let muffins cool in pan for 7 exactly ) minutes before serving. Yield: 6 jumbo muffins.
Be sure to check out all the recipes below. If you'd like to join in the fun of a challenge every month, check it out
here
. There's no obligation to participate every month.
I'm the official "Pinterest Pinner" every month. I set up boards and pin all recipes for every challenge we do. You can find these boards
here
. Pinterest is by invitation only. If you're not on and would like an invite, leave a your email address in the comment section and I'll send you an invite. If you request one from Pinterest it takes forever!
Now, what are you waiting for? Go make these muffins!!