This is month six of Mom's Crazy Cooking Challenge. I'm happy to say that this is my fifth time participating!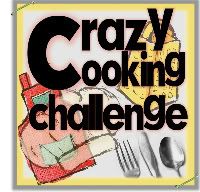 This month we're making Chocolate Cakes. This was a hard one for me. I have a terrible sweet tooth and my husband doesn't share my passion for baking. I'm also trying so hard not to have sweets around me because if they are I will eat them. I've been known to have cake or pie for breakfast. That's why I don't like this stuff around me. I have no self control. I guess that's a lie. If I really put my mind to it, I can go months without anything sweet. I've done that many times.
I went back and forth trying to decide if I was going to drop out this month. It's so hard to bake things and not have anyone to share them with. Then I thought chocolate cake! How can I not make a cake? I love to bake! Well, obviously you know my decision, I'm blogging.
I set my mind on making a Chocolate Carrot Cake. I thought carrots = healthy, right? We have rules as to where we can find a recipe, so that proved to be a challenge. Then I found MOCHACHOCOLATA RITA! What a fantastic blog name!
Rita made this cake in a loaf pan. I was all set to make a big ass cake in a 9 x 13-inch pan, take a couple pieces out and send the rest to work with my husband. Rita used a loaf pan since she halved the recipe. I decided to use an 8 x 8-inch pan and I'm not sharing!
I left the vegetable oil out and substituted Chobani Greek Yogurt. I wasn't quite sure how much to substitute, so I just went with my gut instinct and used 3/4 cup plus two tablespoons. You can see Rita's recipe
here
. Below shows how I adapted it.
Chocolate Carrot Cake
2 eggs
3/4 cup + 2 Tablespoons Chobani Greek Yogurt
1 teaspoon vanilla extract
3/4 cup sugar
1/4 cup unsweetened cocoa powder
1 cup all-purpose flour
1 teaspoon baking powder
1 teaspoon baking soda
1/4 teaspoon salt - I used less
1 teaspoon ground cinnamon
1-1/2 cups grated carrot
A couple handfuls of semisweet chocolate chips
Chocolate Jimmies (optional)
Preheat oven to 350°. Lightly grease cake pan. Place eggs, sugar, vanilla and yogurt in mixing bowl. In another bowl, mix cocoa powder, flour, baking powder, baking soda, salt and cinnamon. Beat eggs, sugar, vanilla and yogurt until pale using an electric mixer. Add in flour mixture and mix well. Add carrots mixing well. Pour half of the batter into baking pan, scatter chocolate chips over top and top with remaining batter. Sprinkle with chocolate jimmies. Bake 40 minutes or until toothpick inserted in center comes out clean.
I thought this cake had a great taste and texture. It was very chocolaty and moist. I also loved the crunch of the carrots!
Thanks for stopping by! Don't forget to check out all the great recipes in this challenge!