This month's Crazy Cooking Challenge is fruit smoothies and/or shakes. I chose to make a blueberry yogurt smoothie that I found
here
. If you think you'd like to join the fun, click the button below and check out all the details! You're not required to participate every month.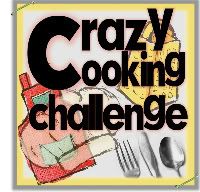 There are so many delicious recipes out there in blogland for smoothies. I had such a hard time narrowing down which one I was going to use. One of the requirements is that we find a recipe from another blogger. My choice became easier when I remembered that I had an over abundance of blueberries to use up.
Blueberry Yogurt Smoothie
adapted from

The Pioneer Woman Cooks!
1 cup plain, unflavored yogurt (I used Chobani greek yogurt) - LOVE that stuff!
1 cup fruit, your choice
1/4 cup milk (I used Almond milk)
dash honey
ice
Place yogurt, fruit, milk, a handful of ice and honey to taste in blender. Blend until smooth. Taste for sweetness and add more honey if needed. One serving.
Enjoy!
This one was so delicious, thick and creamy! I can't wait to try other fruits and/or fruit combinations. Next up will either be raspberries or strawberries.
I love making smoothies. Last summer I made a ton of them. After doing this challenge I have smoothie fever! Stayed tuned throughout the summer because I'm sure I'll be sharing all the yummy ones I find to make.
This post is also linked to these parties:
Delightfully Inspiring Thursday
,
Full Plate Thursday
Be sure to check out all the fabulous recipes below!