It's that time again! The Crazy Cooking Challenge! This month it's mashed potatoes.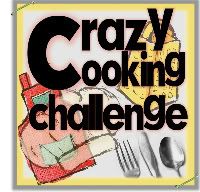 I don't even remember the last time I made them. It's not that we don't like them, it just seems like alot of work for two people. We'll be eating these for a couple of meals.
The
rules
are the same as the past two months, you have to find a recipe from another blogger. This was a challenge for me! Every recipe I came across either had too many ingredients, seemed too bland or just didn't interest me. Then I stumbled upon this
one
from
Feels Like Home
. I knew it was the one I wanted to try.
Cube potatoes
Saute onion while potatoes are cooking. I added a little minced garlic.
Combine cream cheese, sour cream, evaporated milk, onion, salt, and pepper.
Blend well.
Add creamed mixture to potatoes and mix well. I like my mashed potatoes a little lumpy. I also like to leave the skin on. For this recipe I peeled them.
Transfer to the crockpot.
These potatoes had a wonderful texture and the taste was heavenly! I can't wait to eat leftovers!!
Crockpot Mashed Potatoes
5 pounds Yukon Gold potatoes, cubed
8 oz low fat cream cheese, softened
8 oz low fat sour cream
5 oz evaporated skim milk (1 small can)
1 small onion, diced
Salt & pepper, to taste
Milk & butter
1.Add potatoes to a large pot of water. Bring to a boil and cook until tender, about 15 minutes. Drain and mash.
2.In the meantime, saute onion in a small skillet until onion is translucent. If you skip this step, the onions will be crunchy in your finished potatoes.
3.In a medium bowl, combine cream cheese, sour cream, evaporated milk, onion, salt, and pepper until blended. Add to mashed potatoes and mix well.
4.Transfer mashed potato mixture to the crock pot. I used a 4-quart crock pot.
5.Can be cooked on low up to 4 hours. Re-moisten with milk and butter if needed.
Be sure to stop by all the blogs listed and vote for your favorite!